Weekend Reading XXIX
by
uber
There's a famous story that someone asked the owner of Aston Martin, David Brown for a DB5 at cost price, as a favour. Brown sent the car over, with an invoice of £500 more than the sale price.(seems that at least one other person has heard this story).
Cars seem to attract the mad aventurer, like Chapman or DeLorean.
While some companies seem to do the spectacular, but keep their heads in the financial game, even the big boys seem to be tempted all too often.
http://www.economist.com/blogs/graphicdetail/2013/09/daily-chart-18
---
In my fantasy life, I live in Paris and dine for the prix fixe in the same bistro every day. I would love a life of regularity like that, I think, but it's at odds with the real world.
http://www.nytimes.com/2013/09/18/dining/frank-bruni-former-restaurant-critic-on-the-joys-of-repeat-visits.html?_r=0
What you have with a restaurant that you visit once or twice is a transaction. What you have with a restaurant that you visit over and over is a relationship.
---
I found this article deeply disturbing. It's awful to think that there were so many people in apparently civilised countries ready to maim and murder for political goals. There's also an odd coincidence: kindermord kindly shared with me some scans of precious artefacts from DU Gamers' first meeting, which is mentioned in this article. I have included one of the scans related to that meeting below as well. It would be good to put the full collection somewhere, but I have not yet figured out what the best method might be.
http://comeheretome.com/2013/09/17/revolutionary-struggle-and-the-1981-trinity-shooting/

Revolutionary Struggle (RS) were a small militant Marxist group active from c.1975 to c.1984. They were mainly Dublin-based, particularly Trinity College, with some members scattered around the country. Heavily influenced by Italian armed groups like Prima Linea and the Red Brigades and the Tupamaros Uruguayan urban guerrillas, the group maintained and promoted a reputation for secrecy.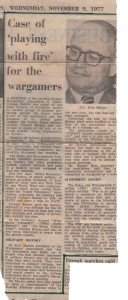 ---
Domain names have evolved from only permitting the 26 latin alphabetical characters to more or less full internationalisation (e.g. [swastika].com). The latest expansion has been into gTLDs, where the restriction on being a national (e.g. .ie) or other (e.g. .com) domain has been opened to a much larger list.
This has created a bit of a gold-rush, but also the potential for substantial confusion and possible fraud. It's interesting to see that some NGOs and IGOs have been granted reserved status. Wisely, however, the icann have apparently avoided too much editorialising: controversial words are not automatically reserved.
This Quartz article pointed me to the reservation list.

Thus were 549 new addresses added to the list of protected names and acronyms that none of the prospective new gTLDs will be able to register. These include the names of international agencies ranging from the United Nations and the European Union (so euroskeptics can forget about registering eu.sucks) to the Postal Union of the Americas, Spain and Portugal and the International Centre for Advanced Mediterranean Agronomic Studies. Even the European Centre for Medium Range Weather Forecasts warrants special protection

Valve have announed that they are releasing their own Operating System for gaming, for developers to create steamboxen on, and for others to install for free. It seems that this tactic was something that GabeN has used before:
http://www.neogaf.com/forum/showthread.php?t=684969

So around the time that Doom shareware came out, I installed it on a laptop and dragged it around everybody's office and said, 'Look, look what PC games can do! This is a lot better that your NES system or your Sega system', and decided to have some engineers work on porting Doom to Windows.
---
The Clang kickstarter, which inclueded GabeN in its promo video, has been suspended. It was always a bit of a vague, mad idea, but it reinforces my feeling that kickstarters are way too sensitive to hype and to explosive expansion. Look at Star Citizen, for one.
I have to say that I think it's pretty bad behaviour to use a recognisable name to drive hype, and then not to deliver. I am not alone in thinking that shifting the risk to fans in this way is not desirable.
http://www.wired.com/gamelife/2013/09/clang-kickstarter/

But what shocks me about this particular update is that Subutai seems to be neither apologetic, nor realistic about what actually occurred in this case. Reading the update, it seems like the blame is falling everywhere but on Subutai's own decisions.

---
It's hard to imagine how severely deteriorated Dublin was by the 1950s. Ireland had no significant industry South of the Border, and Dublin had been in a decline ever since it ceased to be a parliamentary seat in 1801.
http://www.drb.ie/dublin-stories/dublin-stories/2013/09/22/knocking-dublin

We have been recently and dramatically reminded that old buildings can kill. As a result we can never again look at them with quite the clear starry eyes of the preservationist, for whom the past is always to be preferred to the present. The question of what we may put in their stead is a separate issue; but let no one deceive himself but that the present situation is extremely grave and perilous.