Weekend Reading XXXXI
by
uber
This is beautiful, and very nicely illustrated.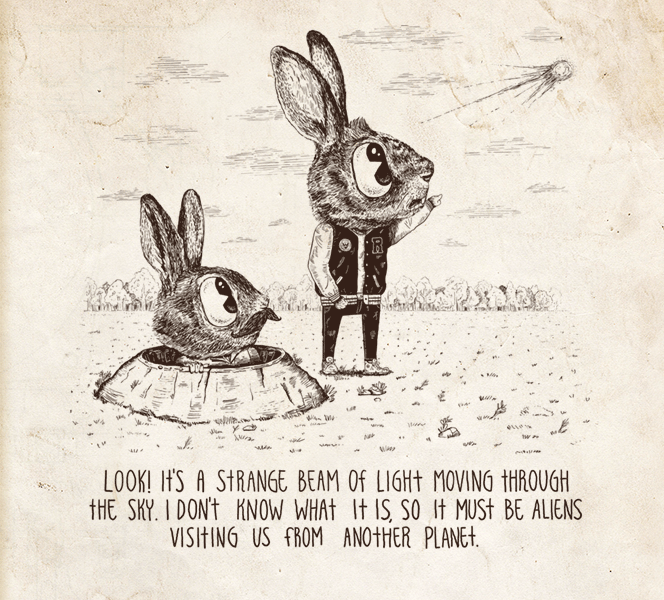 https://bookofbadarguments.com/?view=allpages

This book is aimed at newcomers to the field of logical reasoning, particularly those who, to borrow a phrase from Pascal, are so made that they understand best through visuals. I have selected a small set of common errors in reasoning and visualized them using memorable illustrations that are supplemented with lots of examples. The hope is that the reader will learn from these pages some of the most common pitfalls in arguments and be able to identify and avoid them in practice.

---
The technical details for the hypocentre video are linked in the description and are fascinating.
---
Maybe as we share more and more it will become evident to people that embarrassing photos on facebook of nights out and so on happen to everyone, and that they won't have the professional impact they sometimes do. On the other hand, this makes me wonder. In theory a mug shot means nothing: innocent until proven guilty beyond reasonable doubt is sadly not the standard most people apply, and it's hard to see that changing. It also creates an interesting friction between editorial freedom, public interest, and what amounts to a distributed extortion industry. Identity Hygiene is hard, and even one slip can be extremely costly. It seems that Google have taken action to downgrade these sites, but we have to ask if relying on their benign dictatorship alone is desirable?
http://www.nytimes.com/2013/10/06/business/mugged-by-a-mug-shot-online.html?pagewanted=1&ref=business&_r=0<

The ostensible point of these sites is to give the public a quick way to glean the unsavory history of a neighbor, a potential date or anyone else. That sounds civic-minded, until you consider one way most of these sites make money: by charging a fee to remove the image. That fee can be anywhere from $30 to $400, or even higher. Pay up, in other words, and the picture is deleted, at least from the site that was paid.

---
I played LARPs (of the non-rubber-sword variety) for a few years where the RPS system was integral to task resolution. There was definitely individual skill involved, which made it quite unfair.
http://notstatschat.tumblr.com/post/63237480043/rock-paper-scissors-wilcoxon-test
Transitivity is a basic property of orderings: if A is better than B and B is better than C, then A must be better than C. For example, if the All Blacks beat Tonga and Tonga beats Japan, we would expect the All Blacks to beat Japan.
Rock-paper-scissors is interesting because it is the opposite: if A beats B and B beats C then A must lose to C. The 'winning' relationship is non-transitive — as non-transitive as possible. In this case that's the whole point, since you want all the choices to be equally good if you don't know what your opponent is going to do.
---
Incredible maps of Victorian London
These are amazingly detailed and fascinating.
http://mappinglondon.co.uk/2013/victorian-london-in-incredible-detail/
---
Ireland certainly has a pretty severe culture of corruption. From Diesel Laundering to outright national political corruption, so there are no stones to be thrown from our fair isle. I often wonder what impression business people get when they arrive in Ireland and are presented with the gratuitously informal and ad-hoc way we do things—much of it on the fringes of corruption if not actually money changing hands.
I'm never really wary enough as a tourist, probably because I am out of my element, so African travel might never be advisable for me.
http://www.thirdworldprofashional.com/2013/08/the-end-of-assignment-by-tim-newman.html
There is no getting away from the fact that corruption in Nigeria has infested almost every aspect of life, work, and society. I can't think of a single area where I didn't encounter a scam of some sort. Some of them were pretty normal – policemen hassling motorists for bribes, for example – with others being less common elsewhere. Filling brand named alcohol bottles with local hooch was widespread practice. Not so bad in itself, but these were being sold through supposedly legitimate suppliers and turning up in established bars. Others were unique to Nigeria. I knew a guy in charge of oil shipments for a foreign oil company who received a call from somebody in the authorities saying he was not going to release the multi-million dollar cargo until somebody had bought his cousin $10 worth of phone credit. My acquaintance found himself going to the shop, buying a phone card, and handing it over to some scruffy bloke who showed up at his office in order to allow his crude oil out of the country.
---