Weekend Reading LXXVI
by
uber
Thrashed by a Lady Cyclist
Ladies, be prepared to use your fists in a scientific fashion!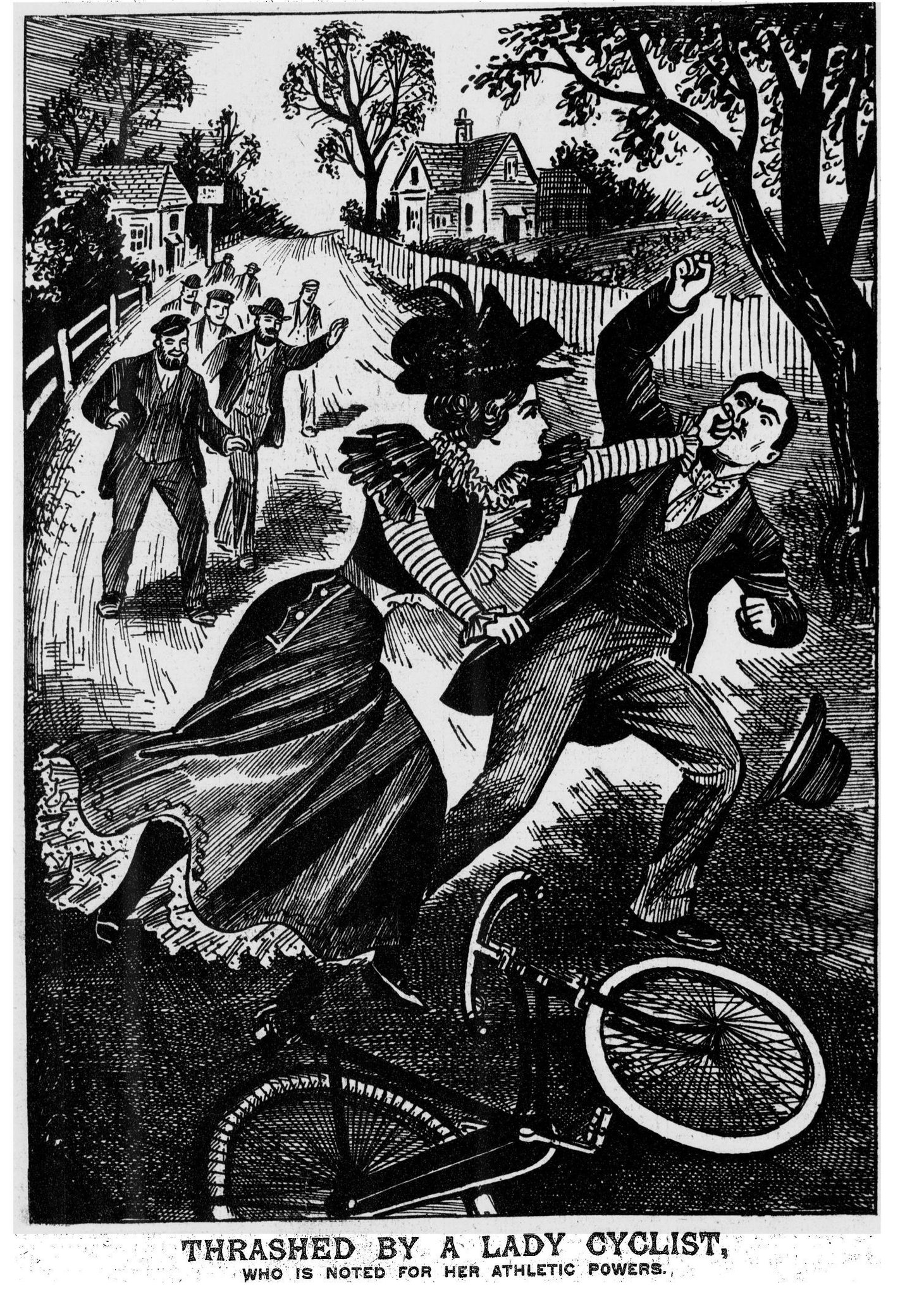 https://twitter.com/DigiVictorian/status/487552987683119104/photo/1
---
Dragon Ball Z [Article in French]
The Bande Dessinée is a great institution in France, it's serious literature as well as marvellous kids' adventures. The willingness to address drawings seriously is also found in Japan, and so there has long been a consumption of japanese shonen cartoons on French kids' TV too. Watching Dragonball brings back memories of France as a child for me, very fond thoughts of croissants, bowls of Nesquick and summer time. These cartoons are different to the emasculated ones exemplified by Pokémon: they recognise the existence of male and female desire, of nudity and play on them, albeit coyly. There is no way that the prudish boundaries of the Anglo-sphere would stand for it, sadly.
http://www.lemonde.fr/pixels/article/2014/07/10/comment-dragon-ball-a-traverse-les-generations_4454639_4408996.html
---
The Future Breakdown of Air Travel
My sense is that we're on the cusp of the next generation of air travel automation. Dublin airport has automatic boarding-pass gates; it and other airports have automated passport control (though the one in Dublin only works 9-5, Mon-Fri, which is baffling); Frankfurt has automated gate access for boarding; and most airports have self-checkin of some form. Eventually it will feel as strangely anachronistic to talk to someone before you board as having a real ticket does today. We might even find sitting in real seats an odd luxury
http://qz.com/232516/the-future-of-us-air-travel-doesnt-look-pretty/
---
"Wutbürger" ("enraged citizen")
I've little time for facebook activism, and I do wonder about some of the nimbyism that goes on. Berlin desperately needs to fix its airport situation, and the start of the Willy Brandt project was greatly complicated by local people complaining. On the other hand, it seems that in the case of that project it did a perfectly good job of failing on a massive scale without too many angry protestors' input.
http://www.spiegel.de/international/germany/grassroots-campaigns-increasingly-hurting-large-german-projects-a-980527.html#ref=rss
The Man who Brought Bacon to the American Breakfast Table
This is quite astonishing to me. The Full Breakfast / Ulster Fry seems to have a longer pedigree.
---
What Credit Card does Barack Obama Use?
He's got about $12 Million, and earns about $400,000 a year on salary alone. There's a huge range of cards at the premium level in the States, but what caught my eye was that in Geneve Airport, they noted that they did not accept Amex Black cards, because they did not fit in the readers. That would be especially annoying: spending $595 a year to get a card that doesn't even work. I have no doubt that the President spends money of his own quite rarely: but there are probably weird moments when he has to put his hands in his pocket, like on campaign.
http://viewfromthewing.boardingarea.com/2014/07/14/credit-card-obama-use/
---
Hershey's Chocolate—the secret
I had the privilege and pleasure of visitng Maison Cailler in Broc, Switzerland recently. I recommend the tour to anyone not worrying about their waistline. There is a chance to taste different varieties of cocoa bean, which is worth it alone. Tasting the full range of their product side by side is also fascinating: you really learn to distinguish the hardness induced by the darker chocolate, and I began to be able to discern the taste contribution of the cocoa butter and sugar from the solids, mostly by comparing dark and milk. I do love chocolate, especially dark or nut chocolate, but sadly it doesn't love me. I do think a lot of chocolate has a cultural or remembered value to it: lots of people are nostalgic for things like Cadbury or Hershey's, I think in part because they are associated with happy childhood memories. This article has a note on how the Hershey's taste is so different, I am pleased to discover that it is not my imagination: there is a different process involved.
http://www.nytimes.com/2008/02/13/travel/13iht-13chocolate.10014453.html?pagewanted=2&_r=0
---